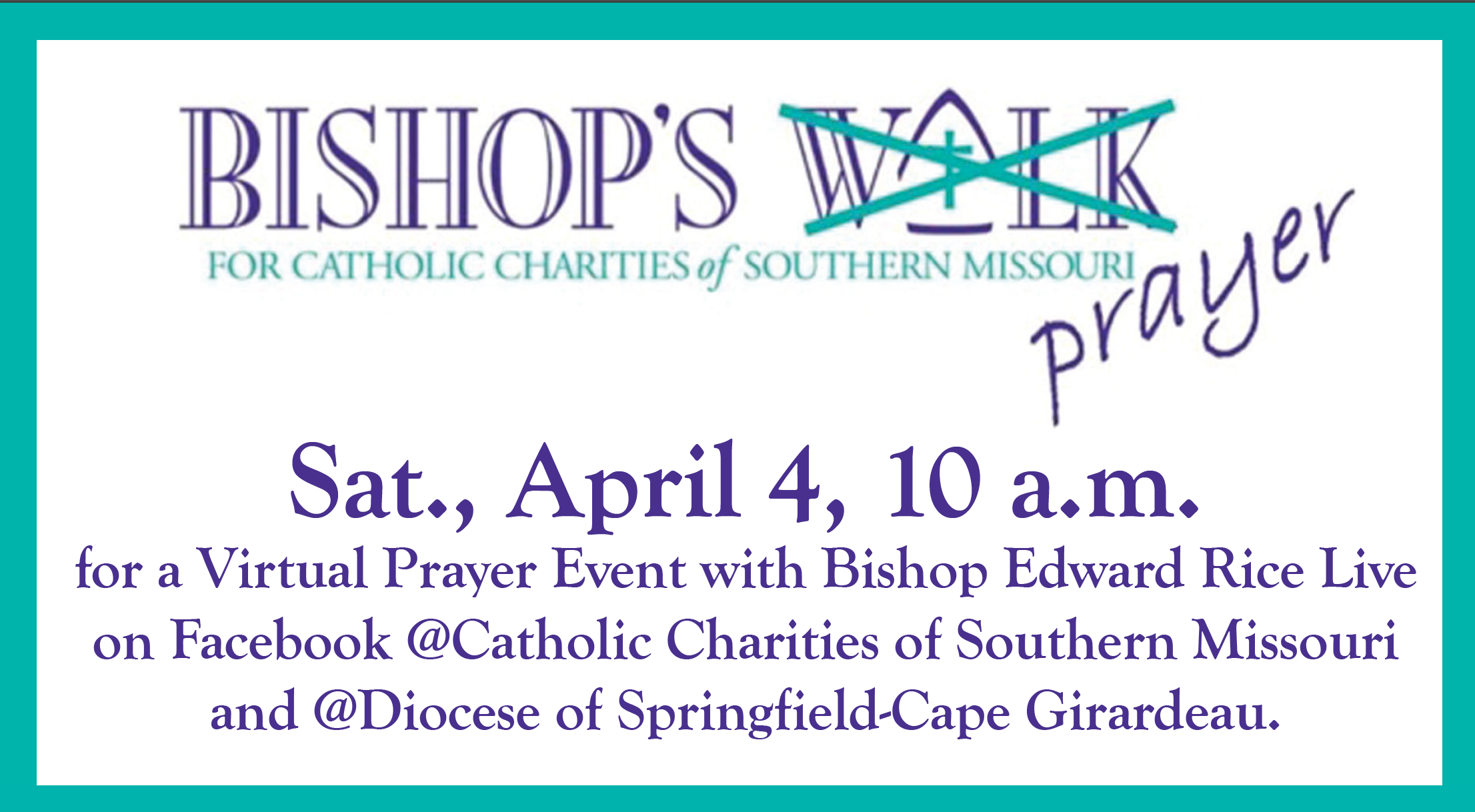 VIRTUAL EVENT BISHOP'S PRAYER REPLACES BISHOP'S WALK
In an effort to protect the health of all in our communities, Catholic Charities of Southern Missouri has changed Bishop's Walk for this year.
Accordingly, the 2020 Bishop's Walk has been converted into a VIRTUAL EVENT called Bishop's Prayer that focuses on the three Lenten Pillars of Prayer, Almsgiving, and Fasting.
Tune in this Saturday, April 4, at 10:00 a.m., on our Facebook page to participate in Bishop's Prayer!

CCSOMO's Facebook address is
(fb.me/ccsomo).
You may also join in at the Diocese's Facebook page:
(fb.me/DioceseofSpringfieldCapeGirardeau)
A NOTE FOR PARISHES
Many of your parishes attend the large, regional walks or host your own Bishop's Walk at your parish - the funds YOU raise for the programs of CCSOMO are CRITICAL to caring for the needs of the most vulnerable in our diocese. The poor in our communities need our support. To support, visit www.ccsomo.org.
Thank you all for being OUR PARTNER in ministry.
A NOTE TO OUR SPONSORS
Also, thank you to all of our generous Bishop's Walk sponsors who are caring for those most in need in our communities.
HAVE QUESTIONS?
Please call Event Director Heather Neubauer at 417.720.4213, or write hneubauer@ccsomo.org, with any questions about Bishop's Prayer.