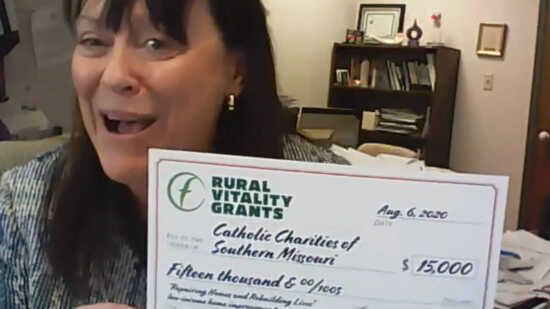 SPRINGFIELD - August 6 - The Community Foundation of the Ozarks COVID-19 Response and Recovery Fund awarded $15,000 to Catholic Charities of Southern Missouri for its low-income home improvement program in an 11-county region of eastern Missouri.
The "Repairing Homes and Rebuilding Lives" program is available to CCSOMO clients in Butler, Cape Girardeau, Carter, Dunklin, Howell, Mississippi, New Madrid, Pemiscot, Ripley, Scott and Shannon counties.
The grant was one of 13 Rural Vitality Grants totaling nearly $250,000 presented via Zoom on Aug. 6 to nonprofit organizations in central and southern Missouri. Each agency was selected because it supports health, education and economic self-sufficiency in rural communities in the CFO's service area of central and southern Missouri. This region is served by several of the CFO's 50 affiliates, including the Cape Area Community Foundation.
CCSOMO Executive Director Maura Taylor said the grant will leverage additional funding that will serve more than 20 households for needs such as roof repairs, HVAC, sagging decks and other needs.
The Rural Vitality Grants, funded by an anonymous donor to the CFO, provided nearly $250,000 for 13 agencies serving central and southern Missouri.
"Six of these counties are some of the poorest in the state of Missouri," she said. "Not only are they poor, but we have a large number of people who are disabled and seniors. This funding will allow us to have homeowners remain in their homes that are safe and sanitary and also to reduce blight."
The Rural Vitality grants are a companion program to the CFO's Louis L. and Julia Dorothy Coover Regional Grantmaking Program to support rural initiatives in partnership with The Commerce Trust Company. This is the second round of Rural Vitality Grants funded by an anonymous donor with a mission for supporting young people in communities with median incomes of 200 percent or less of the poverty rate.
"Grantmaking for rural communities continues to be a significant challenge and we are so grateful to this foundation for its willingness to let the CFO shepherd its resources using our experience working in rural Missouri and our network of 50 affiliate foundations," CFO President Brian Fogle said.
As a place-based regional charitable foundation, the CFO's leadership work includes developing and administering grant opportunities for external funders and donors interested in fulfilling their missions in areas such as supporting rural communities. The CFO has a network of 50 affiliate foundations that are well positioned to understand local needs and priorities.