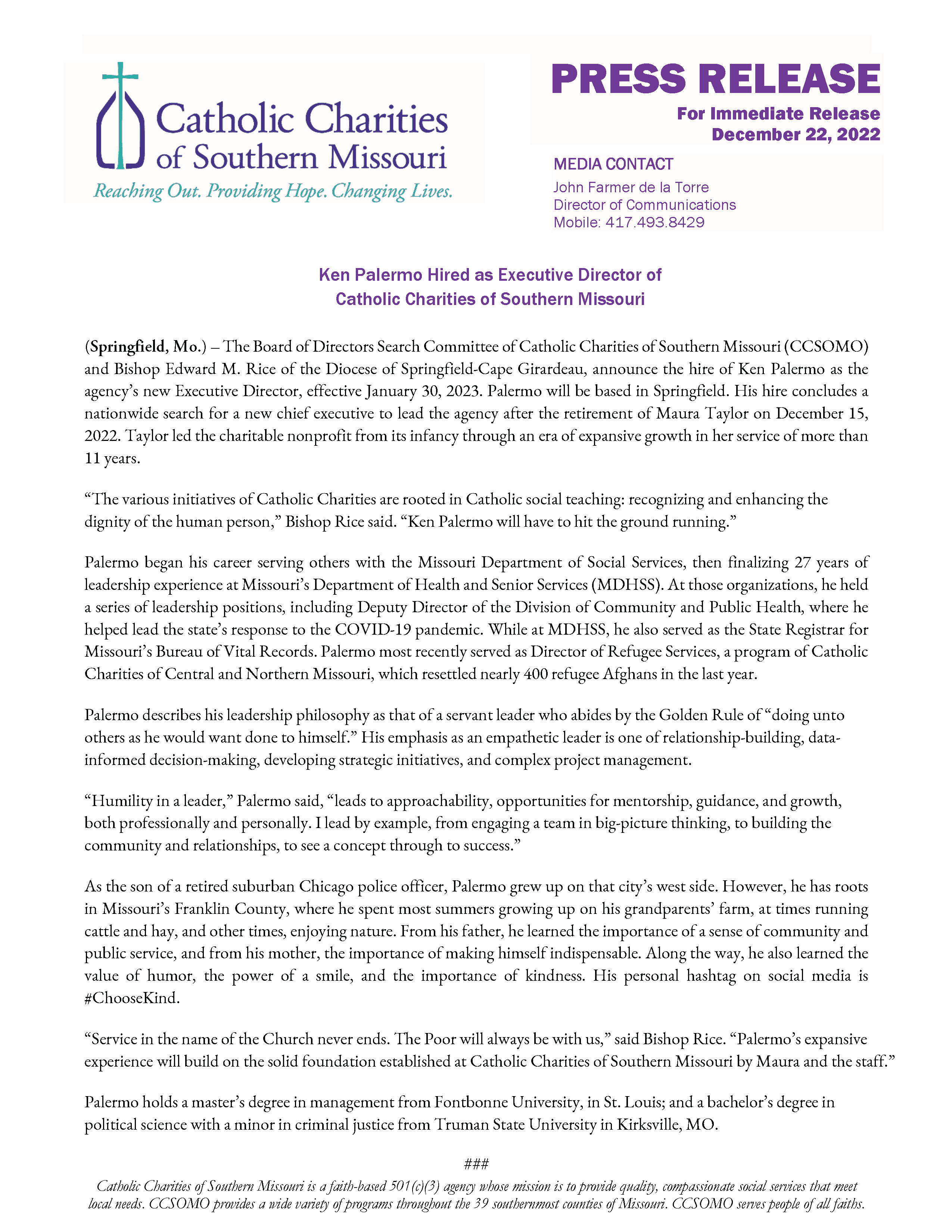 Ken Palermo Hired as Executive Director of Catholic Charities of Southern Missouri
(Springfield, Mo.) – The Board of Directors Search Committee of Catholic Charities of Southern Missouri (CCSOMO) and Bishop Edward M. Rice of the Diocese of Springfield-Cape Girardeau, announce the hire of Ken Palermo as the agency's new Executive Director, effective January 30, 2023. Palermo will be based in Springfield. His hire concludes a nationwide search for a new chief executive to lead the agency after the retirement of Maura Taylor on December 15, 2022. Taylor led the charitable nonprofit from its infancy through an era of expansive growth in her service of more than 11 years.
"The various initiatives of Catholic Charities are rooted in Catholic social teaching: recognizing and enhancing the dignity of the human person," Bishop Rice said. "Ken Palermo will have to hit the ground running."
Palermo began his career serving others with the Missouri Department of Social Services, then finalizing 27 years of leadership experience at Missouri's Department of Health and Senior Services (MDHSS). At those organizations, he held a series of leadership positions, including Deputy Director of the Division of Community and Public Health, where he helped lead the state's response to the COVID-19 pandemic. While at MDHSS, he also served as the State Registrar for Missouri's Bureau of Vital Records. Palermo most recently served as Director of Refugee Services, a program of Catholic Charities of Central and Northern Missouri, which resettled nearly 400 refugee Afghans in the last year.
Palermo describes his leadership philosophy as that of a servant leader who abides by the Golden Rule of "doing unto others as he would want done to himself." His emphasis as an empathetic leader is one of relationship-building, data-informed decision-making, developing strategic initiatives, and complex project management.
"Humility in a leader," Palermo said, "leads to approachability, opportunities for mentorship, guidance, and growth, both professionally and personally. I lead by example, from engaging a team in big-picture thinking, to building the community and relationships, to see a concept through to success."
As the son of a retired suburban Chicago police officer, Palermo grew up on that city's west side. However, he has roots in Missouri's Franklin County, where he spent most summers growing up on his grandparents' farm, at times running cattle and hay, and other times, enjoying nature. From his father, he learned the importance of a sense of community and public service, and from his mother, the importance of making himself indispensable. Along the way, he also learned the value of humor, the power of a smile, and the importance of kindness. His personal hashtag on social media is #ChooseKind.
"Service in the name of the Church never ends. The Poor will always be with us," said Bishop Rice. "Palermo's expansive experience will build on the solid foundation established at Catholic Charities of Southern Missouri by Maura and the staff."
Palermo holds a master's degree in management from Fontbonne University, in St. Louis; and a bachelor's degree in political science with a minor in criminal justice from Truman State University in Kirksville, MO.
--- Source (CCSOMO Press Release, released to media, staff, and clergy, December 22, 2022).