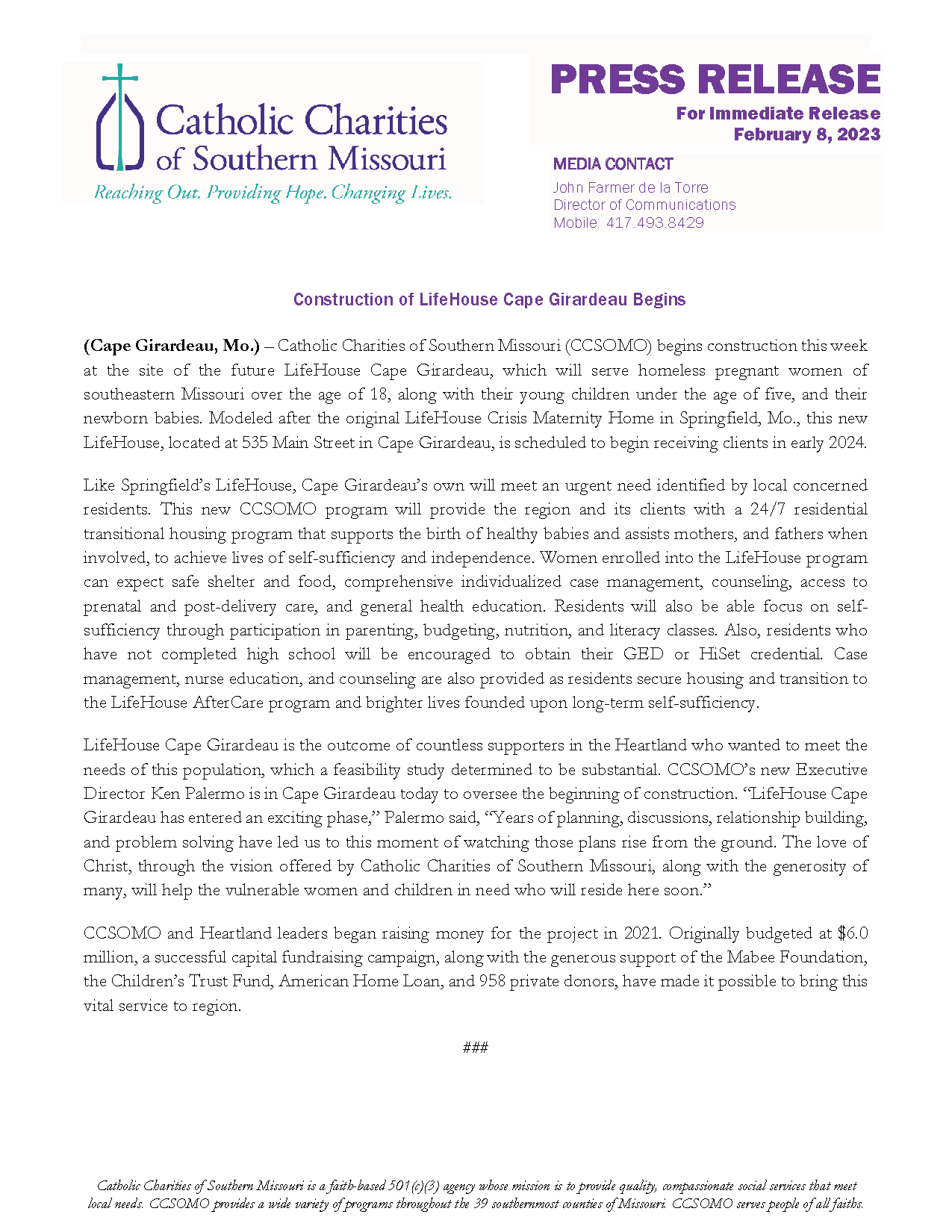 (Cape Girardeau, Mo.) – Catholic Charities of Southern Missouri (CCSOMO) begins construction this week at the site of the future LifeHouse Cape Girardeau, which will serve homeless pregnant women of southeastern Missouri over the age of 18, along with their young children under the age of five, and their newborn babies. Modeled after the original LifeHouse Crisis Maternity Home in Springfield, Mo., this new LifeHouse, located at 535 Main Street in Cape Girardeau, is scheduled to begin receiving clients in early 2024.
Like Springfield's LifeHouse, Cape Girardeau's own will meet an urgent need identified by local concerned residents. This new CCSOMO program will provide the region and its clients with a 24/7 residential transitional housing program that supports the birth of healthy babies and assists mothers, and fathers when involved, to achieve lives of self-sufficiency and independence. Women enrolled into the LifeHouse program can expect safe shelter and food, comprehensive individualized case management, counseling, access to prenatal and post-delivery care, and general health education. Residents will also be able focus on self-sufficiency through participation in parenting, budgeting, nutrition, and literacy classes. Also, residents who have not completed high school will be encouraged to obtain their GED or HiSet credential. Case management, nurse education, and counseling are also provided as residents secure housing and transition to the LifeHouse AfterCare program and brighter lives founded upon long-term self-sufficiency.
LifeHouse Cape Girardeau is the outcome of countless supporters in the Heartland who wanted to meet the needs of this population, which a feasibility study determined to be substantial. CCSOMO's new Executive Director Ken Palermo is in Cape Girardeau today to oversee the beginning of construction.
"LifeHouse Cape Girardeau has entered an exciting phase," Palermo said, "Years of planning, discussions, relationship building, and problem solving have led us to this moment of watching those plans rise from the ground. The love of Christ, through the vision offered by Catholic Charities of Southern Missouri, along with the generosity of many, will help the vulnerable women and children in need who will reside here soon."
CCSOMO and Heartland leaders began raising money for the project in 2021. Originally budgeted at $6.0 million, a successful capital fundraising campaign, along with the generous support of the Mabee Foundation, the Children's Trust Fund, American Home Loan, and 958 private donors, have made it possible to bring this vital service to region.
###