Veterans Served Us. Now We Serve Them.
Catholic Charities of Southern Missouri's Supportive Services for Veteran Families (SSVF) program provides housing stability and case management support to veteran families in 36 of the southernmost counties in Missouri. This coverage area extends from Illinois to the Oklahoma-Kansas borders, along the Missouri-Arkansas state line, while excluding the three southern Missouri counties surrounding the City of Springfield--these are Greene, Christian, and Webster counties which are served through a similar program provided by The Kitchen.
The purpose of the SSFV project is to address the staggering reality of homelessness among veterans and their families. Missouri has seen an alarming increase in homelessness among veterans in recent years, many of whom live in Southern Missouri. By providing case management and other supportive services, Catholic Charities of Southern Missouri promotes and supports housing stability among very low-income veteran families who are currently homeless or at imminent risk of homelessness. This program consists of a combination of services including rapid rehousing for the literally homeless and homeless prevention services for those at risk of homelessness. The goal of these services is to provide participants with immediate housing and then to address any issues that might jeopardize housing stability through case management and connecting participants with valuable community resources.
Just One Example of SSVF Program Success. Read James' story HERE.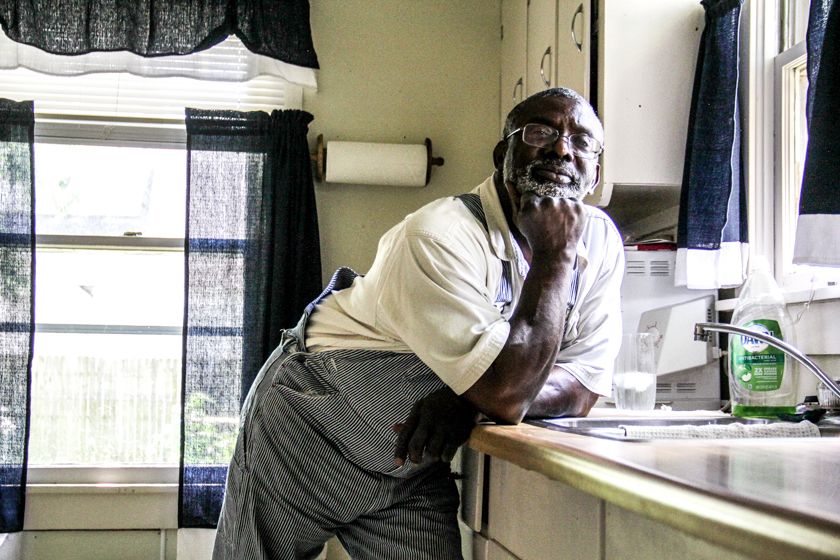 Eligibility
The SSVF program is available to veterans who at a minimum meet the following conditions:
Have served at least one day of active duty service.

Have a discharge status other than dishonorable.

Very low-income: Household income does not exceed 50% of the area median income (AMI).

Eligible veteran families must be homeless or at immediate risk of homelessness but for the supportive services offered through this SSVF project.

Be a member of a Veteran family: Either (a) a Veteran; or (b) a member of a family in which the head of household, or the spouse of the head of household is a Veteran, who has served at least 1 day on active duty and has received a discharge type other than dishonorable.

Be a resident of one of the 36 counties identified in Catholic Charities of Southern Missouri's service area. Additionally, the Veteran family must continue to reside in or have a housing plan that will result in residency in one of the 36 counties served by the program. The Kitchen provides similar services for Greene, Christian and Webster counties.
Types of Services Offered
For those enrolled in the SSVF program, they may receive short-term or intensive case management services, social service assistance, financial assistance, and linkage with community services. Examples of these services include, but are not limited to:
housing stabilization;

housing counseling (development of a housing stability plan);

securing utilities;

assistance with moving arrangements;

mediation, advocacy and outreach to property owners;

financial budgeting and planning;

assistance obtaining VA benefits;

rental assistance;

utility payments;

security payments;

moving costs;

child care;

emergency supplies;

mental and physical health services;

social services;

transportation;

and education.
---
Contact information
For veterans living in Barry, Barton, Cedar, Dade, Jasper, Lawrence, McDonald or Newton Counties, call 417.624.3790.
For veterans living in Dallas, Dent, Douglas, Howell, Laclede, Ozark, Polk, Stone, Taney, Texas or Wright Counties, call 417.268.9998
For veterans living in Butler, Carter, Dunklin, Oregon, Pemiscot, Reynolds, Ripley, Shannon or Wayne Counties, call 573.323.4044.
For veterans living in Bollinger, Cape Girardeau, Iron, Madison, Mississippi, New Madrid, Scott or Stoddard Counties, call 573.335.0105.
---
The SSVF project receives funding through a grant from the U.S. Department of Veterans Affairs.
Veterans sometimes have extraordinary needs. We go the extra mile when duty calls.